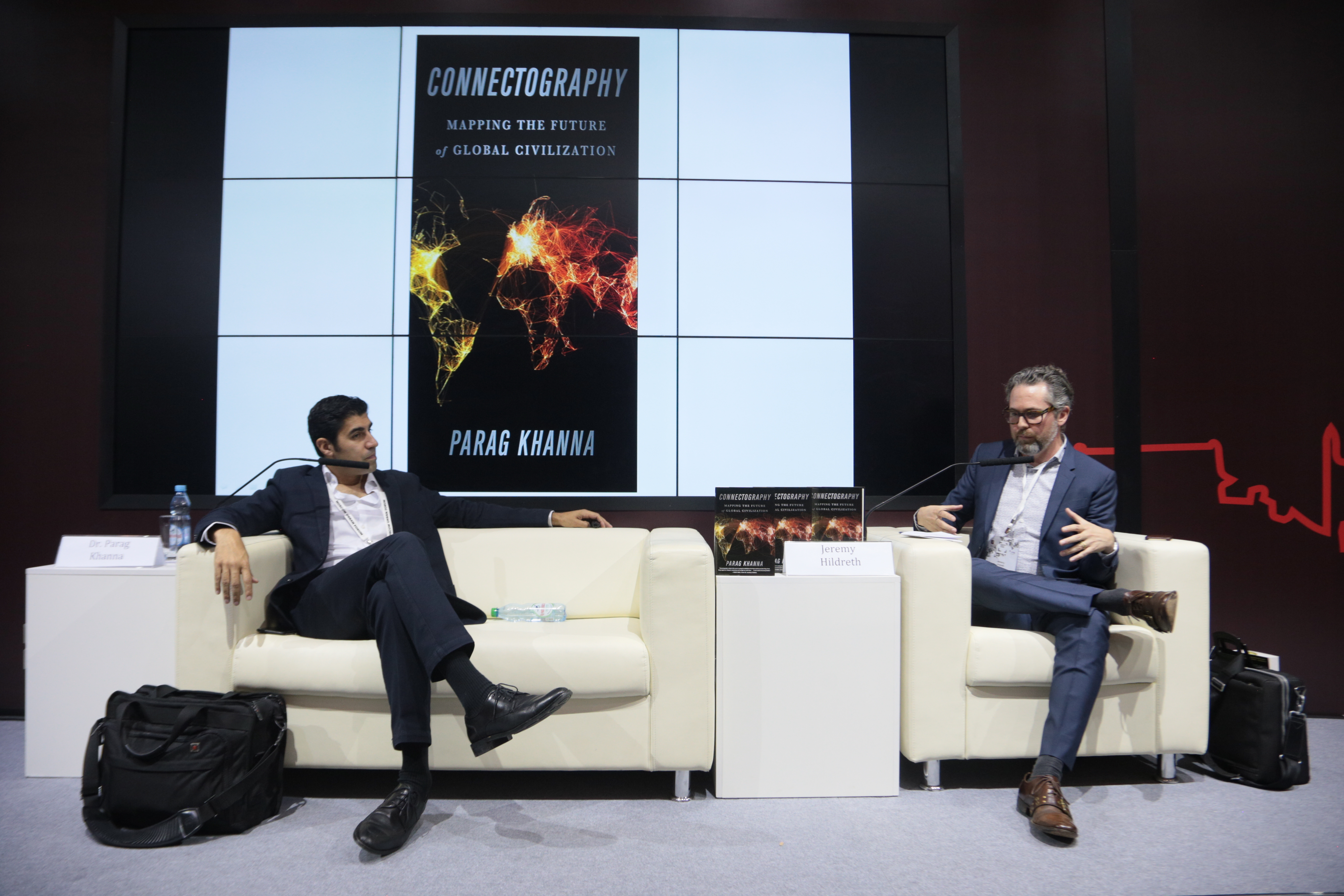 iTunes podcast:  Parag Khanna and Jeremy Hildreth in conversation
A year after Parag Khanna became the most hated man in Mongolia for making a disparaging (yet accurate!) remark about their geopolitical prospects, he accepted the president of Mongolia's invitation to visit the country.
But instead of flying like a normal person, Parag drove 13,000km from London to Ulaanbaatar (as part of the Mongol Rally) in a decommissioned British Army Land Rover field ambulance, which he then donated to Mongolia's medical services.
This is what I admire most about my friend Parag: if and when he doesn't have actual skin in the game, he has the next best thing: his feet on the ground.
Parag Khanna, who turns 40 this month, is a scholar and a traveller (not always in that order) and a wise and well-informed man, characterised as a visionary by none other than THE BLACK SWAN's Nassim Taleb.
In this conversation, which took place backstage at the Moscow Urban Forum a few minutes after I'd interviewed him on-stage for the Forum itself, we get into Parag's views on:
* What it means to fuse the reality between "what you read" and "what you see"
* The paradox of how the future success of globalisation depends on increased tribalism (and why he supports secessionist movements)
* Why it's probably your own goddamn government's fault if you're unhappy that your job went overseas
* How most people misuse the term globalisation in pathetically self-serving ways
* Why it's sound judgment to "trust the traveller."
* Why Berlin, London, Singapore, New York are awesome
* Why Dubai (Dubai??) is REALLY awesome, too
Full transcript:
Read it in full below, or, if you prefer, on  Medium.
This is Jeremy Hildreth, and my guest today is Parag Khanna, who is kind of a buddy of mine I guess you'd say. We've known each other a long time, and we're about the same age. He's a couple of years younger, and we don't see very much of each other. He lives in Singapore. I live in London. We're both American, but it's always in some random place like down an alley in Shanghai. I remember once having a drink with him down some hutong. I think we've never hung out in the same place twice, actually, so it's no surprise whatsoever that the last place I saw him was in Moscow, Russia at the Moscow Urban Forum, where I interviewed him up on stage about his new book called Connectography.
The point of my podcast, this podcast, generally speaking, is to have conversations with remarkable people who've lived interesting lives so far, and Parag meets that description to a tee. He's a traveler, a thinker. He's an integrator, which is something very important to me, something I look for in people, something that's a very rare talent, skill, knack of combining things, putting things together, seeing the big picture, and how it connects to the details. I love this. I love this about him.
His book Connectography will enlighten you. It will help you use the right maps to see and understand the modern world, and direction, or directions, that we're moving in. It's not an easy read, particularly, but it is a nutritious one, and if you like what you hear in the interview, regard that as a kind of a sampler, and go get his book.
I'll give you a couple of examples from the blurbs. "Connectography is as compelling and richly expressive as the ancient maps from which it draws its inspiration." I like that one. "Reading Connectography is a real adventure." I certainly concur. "A provocative remapping of contemporary capitalism based on planetary mega infrastructures, intercontinental corridors of connectivity, and transnational supply chains." Hahaha. Anyway, you get the idea, and I promise you it's a hell of a book.
So let's go now to the audiotape….
For the benefit of the audience, Parag and I are sitting outside of a makeshift patio on a developer's demo house.
How do you like this AstroTurf?
Yeah, with AstroTurf beneath our feet. There's a gigantic — how big is that thing?
That's quite a mural… photo.
There's a gigantic photographic mural, or very detailed painting, of Moscow. It's as though we were on the roof of a very expensive apartment.
Yes, this would be a multi-million dollar apartment's terrace that we would have been on, were we not actually indoors in a giant hangar.
If this view were real —
If this view were real.
— there would be three people in the world who could afford it.
Yes, and all three of them would be Russian billionaires, that is true.
Nassim Taleb, the Black Swan guy, coined this term fairly recently "Intellectual-Yet-Idiot" IYI, which has caught on.
I've never heard that, that's awesome.
Read More